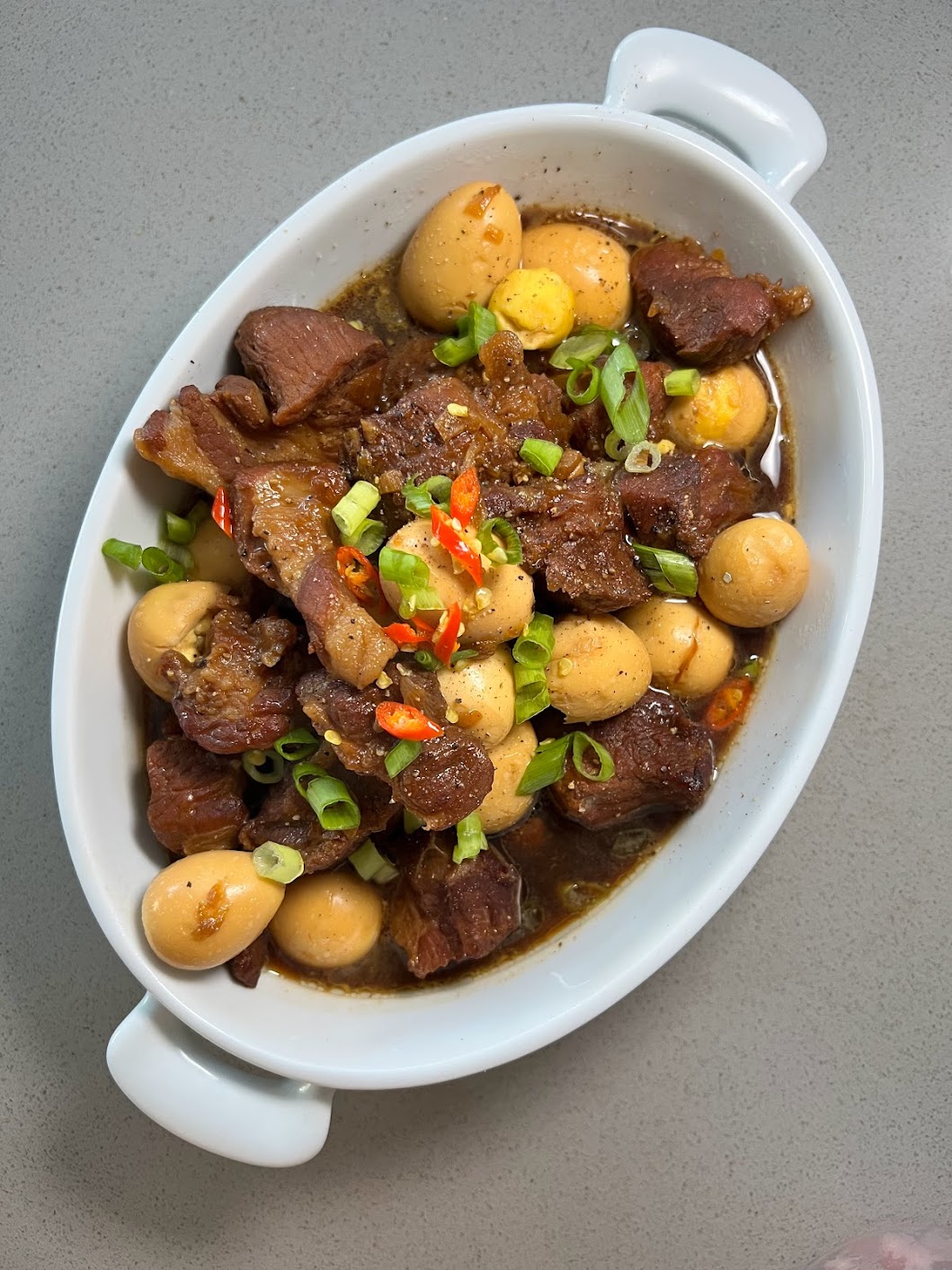 First time making Thit Kho using quail eggs and I don't know why I waited until now to try it! I prefer the lighter, smaller egg. So delicious with rice 🤤
Ingredients
1 lb pork shoulder/butt (cut into 2" cubes, parboiled and cleaned)
1/2 shallot (minced)
3-4 garlic cloves (minced)
2 tbsp fish sauce
1 tbsp dark soy sauce
1/2 tbsp chicken powder
1/2 tsp sugar
12-15 quail eggs (boiled, peeled)
2 tbsp oil
2 tbsp sugar
1/2 cup coconut soda
Procedure
Marinate your parboiled pork shoulder/butt with the seasoning ingredients (shallots, garlic cloves, fish sauce, dark soy sauce, chicken powder, sugar) for at least 1 hour. Overnight would be best.

In a medium 3 qt pot, add 2 tbsp oil and heat to medium-high.

Add the 2 tbsp sugar and slowly allow it to caramelize - approximately 3 minutes (the sugar/oil mix will turn dark brown). This process should be closely monitored to prevent the sugar from burning.

Add the marinated pork and combine well for 2 minutes.

Add the coconut soda and add enough water to cover the meat mixture. Allow the liquid to reach a boil before lowering the heat to low. Allow this to cook for 1.5 hours (or longer depending how tender you like your meat). Add water as needed while liquid reduces during cooking.

While your pork is simmering and cooking, in a separate pot, boil the 12-15 quail eggs until well-done. Approximately 10 minutes total.

Peel your boiled eggs and set them aside.

After your pork has been braising for 1.5 hours, add the boiled eggs and continue to braise for another 10 minutes. The liquid should have reduced during the braising process and darken in color.

Serve hot with a side of rice and pickled mustard greens.