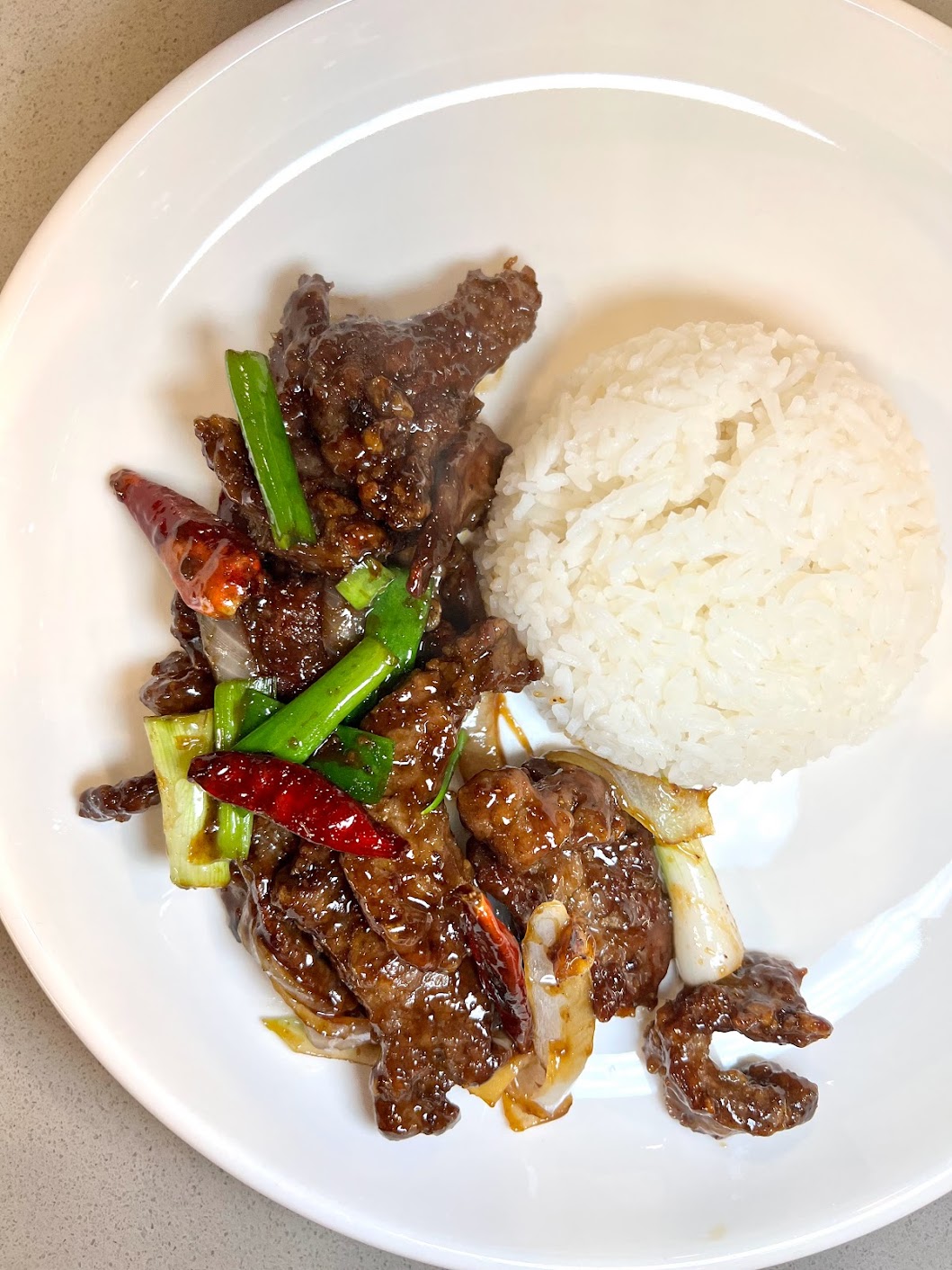 I hate frying… but this was worth it 🥵 one of my favorite new dishes that my mom makes for us when we visit!
Ingredients
Marinade:
1 lb beef flank steak
1 egg white
1 tbsp soy sauce
1/2 tbsp garlic powder
1/2 tbsp onion powder
black pepper
2 tbsp cornstarch
Sauce:
1/2 tbsp vinegar

2 tbsp sugar

2 tbsp soy sauce

4 tbsp oyster sauce

1/2 tbsp sesame oil

1 tbsp @abcsauces dark soy sauce

black pepper

1/4 white onion (sliced thick)

2 slices ginger

5 dried Thai peppers

2 green onions (sliced into 2" pieces)

Cooking oil
Procedure
Slice your beef across the grain into 1/4" thick pieces. Marinate with egg white, 1 tbsp soy sauce, 1/2 tbsp garlic powder, 1/2 tbsp onion powder and black pepper. Marinate in the fridge for at least 30 minutes. Take out of fridge at least 30 mins prior to cooking.

In a separate bowl, combine all the ingredients listed for the sauce. Taste and adjust to your liking.

Add enough oil to your wok to cover the bottom of the pan. Turn on heat at medium high and wait until hot. While waiting, place your marinated meat in a zip lock bag along with 2 tbsp cornstarch. Gently shake so meat is covered evenly with the cornstarch.

Once oil is hot, gently fry small batches of the meat so they are crispy on each side. Do not overcrowd. Approximately 2 minutes per side. Remove and lay on a plate with paper towel. Repeat until all meat is fried. Add additional oil as needed while cooking each batch.

Once all the meat is cooked, remove excess oil from the wok - leaving only about 2 tbsp. Over medium high heat, sauté your sliced ginger, white onion, and dried Thai peppers for 45 seconds. Add back your fried meat slices. Add 3/4 of your sauce mixture and combine well. Cook for an additional 45 seconds. Taste and add remainder of sauce if needed.

Add your sliced green onions and turn off the heat. Serve with a bowl of rice. Enjoy!!