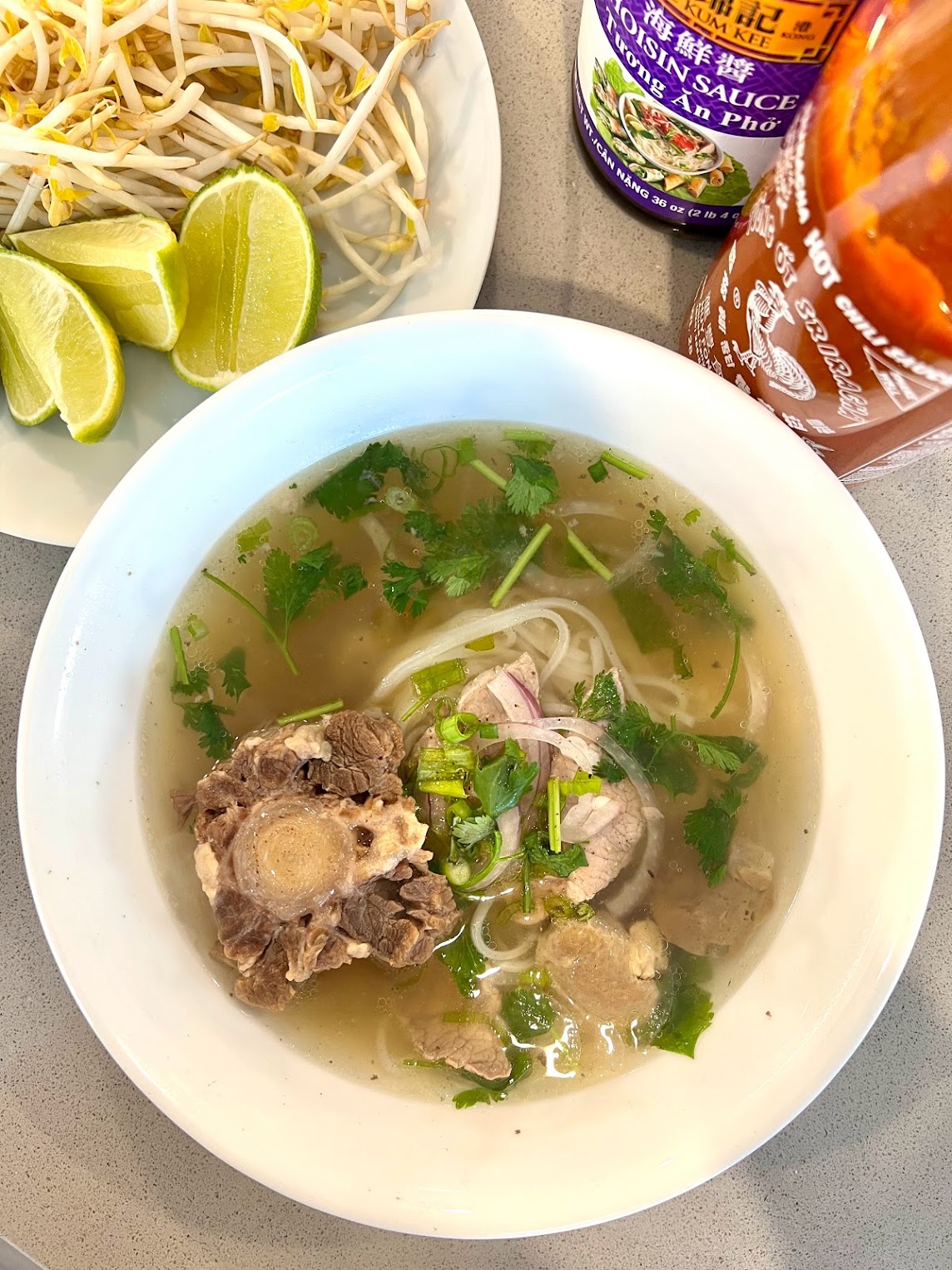 Quick and easy way to make Beef Pho in under 1 hour using an Instant Pot :) although pricey, oxtail pho is the best pho! It's more flavorful than using just beef bones, in my opinion. Therefore, it's always a treat when we make this recipe.
Ingredients
2 lb beef oxtail
1 white onion
1 medium ginger root
3-4 star anise
1 cinnamon stick
1 tbsp whole white peppercorns
1 small-medium rock sugar chunk
1 tbsp salt
1/3 tsp MSG
3/4 tbsp sugar
6 tbsp fish sauce
1 package of pho fresh rice noodles ('banh pho' in Vietnamese)
green onions (sliced thin, for garnish)
cilantro (sliced thin, for garnish)
white onion (sliced thin, for garnish)
Procedure
To clean your oxtail, put them into a pot and cover them with cold water. Then bring the pot to boil with 1 tbsp salt and allow to boil for 5 minutes. Then drain, rinse, and clean your oxtail under clean water.

While your oxtail is being cleaned, you can char your onion and ginger (with skin on) over an open flame. Once your onion and ginger are charred on all sides, remove them from heat. Peel the onion skin off and peel your ginger skin off. Rinse under water to remove any charring dust from the vegetables. Leaving the charring dust on the vegetables will make the broth dark.

In a medium pan, you want to add your aromatics (star anise, cinnamon stick, white peppercorns) and heat over medium-low heat, You want to toast the aromatics until they are warm (peppercorns will start popping). At this moment, turn off the heat and allow to cool. We do NOT want to burn them! You can then add them to a cheesecloth bag or stainless steel tea ball infuser.

In your 6 qt instant pot, add the cleaned oxtail bones, charred white onion, and charred ginger. Add your spice pouch and fill with water until you reach the 'max' line on the instant pot. Add your rock sugar and 1 tbsp salt.

Allow it to cook on high pressure (set to 'sealing') for 45 minutes. Allow for natural release upon completion.

Once the broth is finished cooking, release the pressure. Discard the spices onion, and ginger. Remove excess fat from the broth.

Season the broth with 6 tbsp fish sauce, 3/4 tbsp sugar, and 1/2 tsp MSG.

Cook your rice noodles according to the package in a separate small pot.

Assemble your pho bowl (noodles, oxtail meat). Ladle in your broth. Garnish with thinly sliced green onions, cilantro, sliced white onions, and black pepper.

Serve with sriracha, hoisin sauce, beansprouts, limes, and Thai basil. Serve hot.