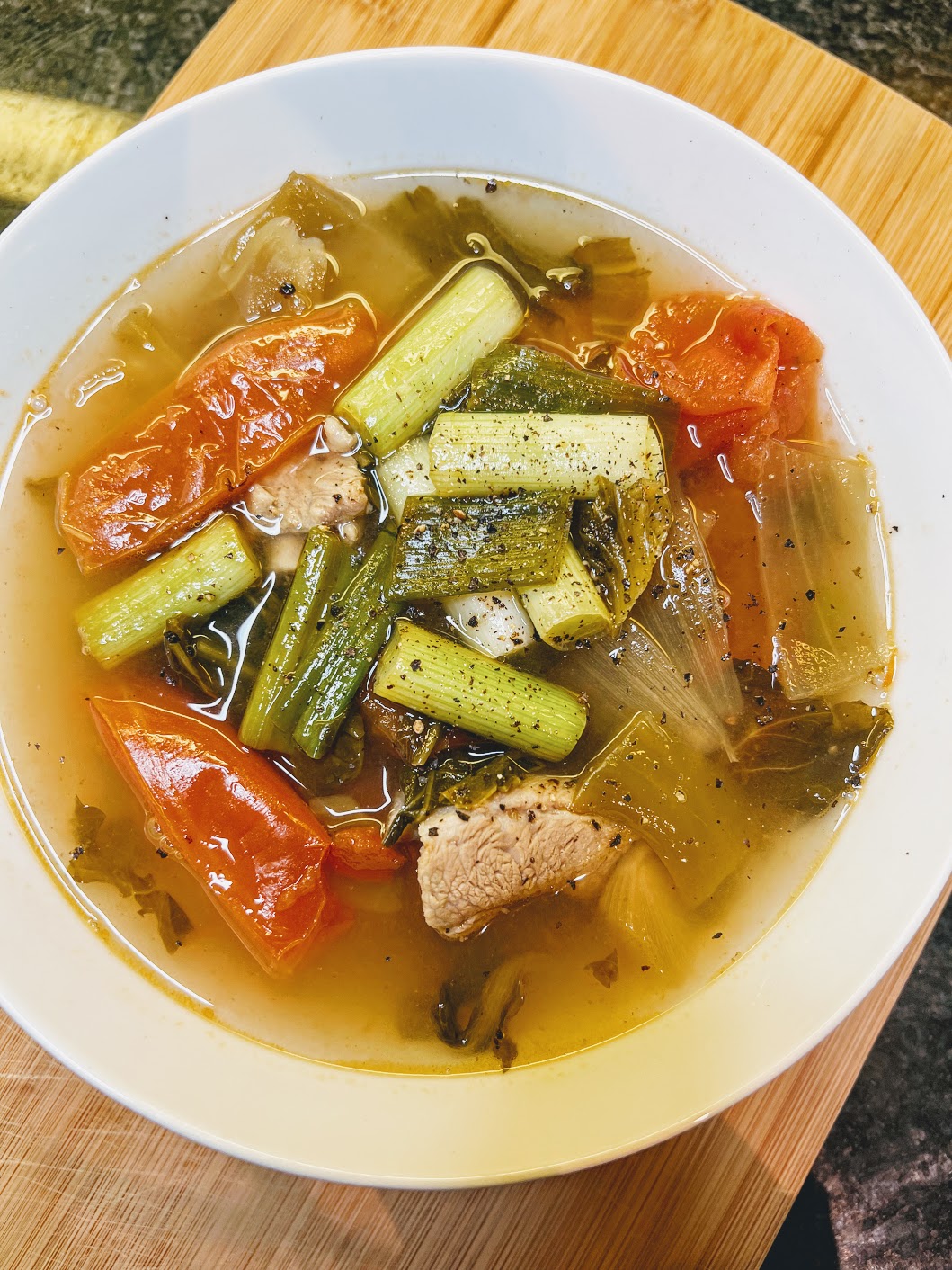 Mama would call this soup "Beep Beep Bum Bum" to signify the crunch of the pickled mustard greens and it became the unofficial name for this soup in my household. It's savory and slightly tart from the pickled greens and tomato. One of my favorite Vietnamese soups to eat with rice.
If you need a good pickled mustard green recipe, I use @hungryhuy's recipe for years and it always turns out how I grew up eating it.
Ingredients:
For the soup:
1 lb spare ribs
3 roma tomatoes (cut into fourths)
3 green onions (cut into 2" pieces)
3 cups pickled mustard greens (cut into bite-sized pieces)
1 shallot (whole)
1/2 tbsp salt
1 small rock sugar
To season:
3 tbsp fish sauce
1/3 tbsp sugar
1/4 tbsp MSG
Instructions:
In a pot, add your spare ribs and add enough water to cover the ribs. Bring it to the stove over high heat and wait for it to reach a boil.

While waiting, prep your tomatoes, pickled greens, and green onions.

Once the pot reaches a boil, dump the liquid and clean the spare ribs. Place the spare ribs back in the pot. Add 1 small rock sugar, 1/2 tbsp salt, and 1 shallot. Add 7 cups of water and bring it to the stove at high heat. Once boiling, lower to simmer and simmer for 30 minutes.

While the spare ribs, remove any impurities that rise to the top of the soup and discard.

After 30 minutes on simmer, discard the shallots. Add your tomatoes and pickled mustard greens to the soup. Cook for another 15 minutes.

Season the soup with 3 tbsp fish sauce, 1/3 tbsp sugar, and 1/4 tbsp MSG. Add your green onions and turn off the stove.

Serve this with a bowl of hot rice. Enjoy!