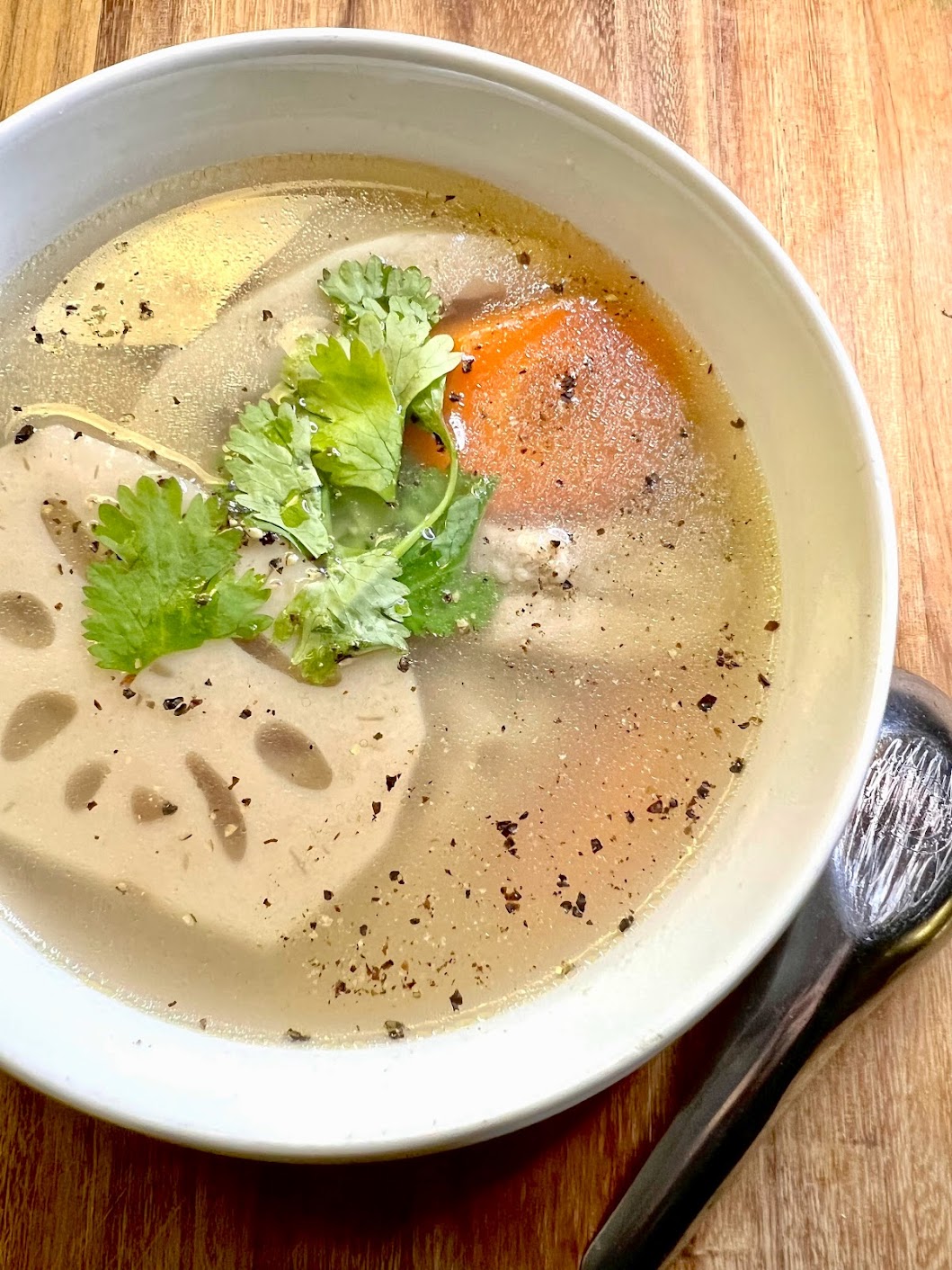 Mama (grandma) is a huge advocate for "health is wealth". This woman still exercises everyday on her treadmill at 85 years old! And she will opt for the low-fat, low-calorie, low-portion options (unlike her grand daughter lol). This is a healthy lotus root soup she would make for us when we were younger.
Serves 4 / Cooking duration: 45-60 mins
Ingredients:
0.5 lb spare ribs
1 shallot (halved)
2 carrots (cut into 1/2" slices)
1 lotus root (cut into 1/4" slices)
1/2 tbsp salt
1 medium rock sugar
1 tbsp chicken powder
1 tbsp fish sauce
1/2 tsp sugar
black pepper
Instructions:
Start by par-boiling your spare ribs and clean.

In a medium pot, add your cleaned spare ribs, 1 shallot, 1/2 tbsp salt, 1 medium rock sugar, and 7 cups of water. Bring to a boil, then simmer for 30 minutes.

While waiting, peel and slice your carrots and lotus roots. You want to remove the skins from each, clean, then slice. Set aside.

After 30 minutes of simmering the broth, add 2 additional cups of water to the broth. Add your sliced lotus roots and carrots. Simmer for an additional 15 minutes.

After 15 minutes of cooking, season your soup with 1 tbsp chicken powder, 1 tbsp fish sauce, 1/2 tsp sugar.

Garnish with cilantro (optional) and top with fresh cracked black pepper. Serve by itself or with a side of rice.