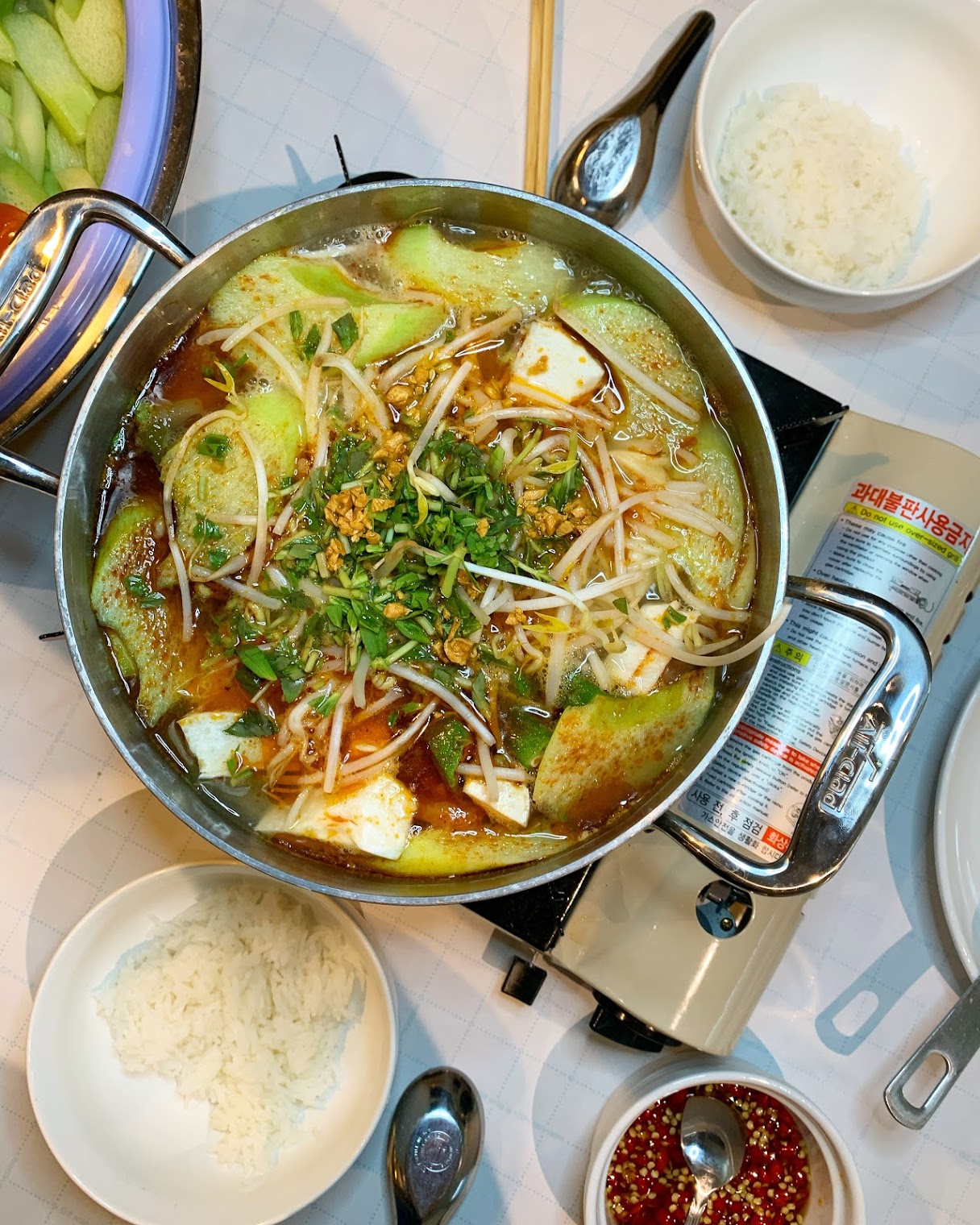 Ingredients
For the soup:
4 lbs catfish (cut into 2" thick steaks)
16 oz pineapple chunks (canned with syrup)
4x 14 oz chicken broth (can)
56 oz water
2 tbsp Tom Yum paste
2 tbsp tamarind powder
5 tbsp sugar
1 tsp MSG
4 tbsp fish sauce ▪️- 1 tbsp chicken powder
Fresh vegetables for broth (cleaned and prepped):
0.75 lb elephant ear ('Bac Ha' in Vietnamese, cleaned, sliced into bite-size)
16 oz beansprouts (cleaned)
3 whole tomatoes (cleaned, sliced into quarters)
1.25 lb king oyster mushrooms (cleaned, sliced into bite-size)
0.15 rice patty herbs ("Ngo Om" in Vietnamese, cleaned, sliced thin)
0.5 okra (cleaned, halved)
For the garlic oil:
1 whole bulb garlic (minced)
1/2 cup oil
Instructions:
In a 6 qt pot, add your chicken broth, water, pineapple chunks (with syrup), and tom yum paste. Bring it to a boil (with the lid on).

Once the broth boils, add the seasonings: tamarind powder, sugar, MSG, fish sauce, chicken powder. Allow it to bring to boil again.

Add your catfish steaks and allow them to cook for 15 minutes or until fully cooked. Remove from broth.

Add the fresh vegetables (elephant ear, beansprouts, tomato, king oyster mushroom, rice patty herb, okra). The vegetables only take 3-4 minutes to cook.

Right before serving, top with 1 tsp of garlic oil.
To prepare the garlic oil:
In a small pan or pot, add your oil and turn on the heat to medium-high.

Add your garlic directly (the oil does not have to be hot). We want to slowly cook the garlic and not burn them.

Carefully monitor the garlic as it cooks in the oil. Turn off the heat once the garlic shows slight golden color on the edges (5-7 minutes). The garlic will keep cooking even after we turn off the heat.