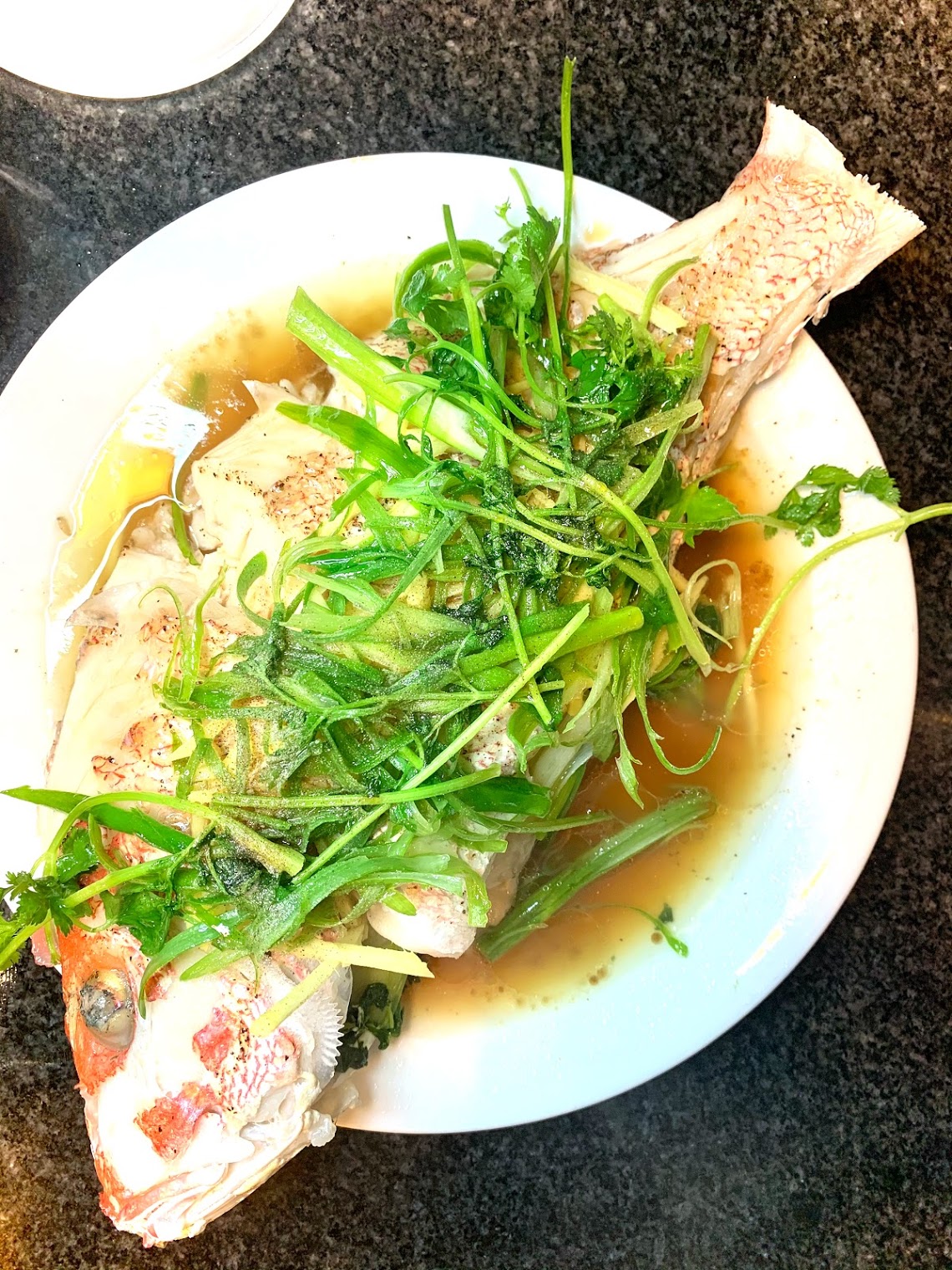 Ingredients
For the steamed fish:
2 lb red snapper
3 inch ginger (sliced thin)
6 green onion (white part, bruised)
4-5 cilantro (stems and leaves)
sesame oil
salt and pepper
For the sauce:
8 tbsp soy sauce
4 tbsp shaoxing wine
4 tbsp water
1/2 tbsp sesame oil
1 tbsp sugar
1/2 tbsp white pepper powder
For the garnish:
4-5 cilantro (stem and leaves)
6 green onions (green part, julienned)
3 inch ginger (julienned)
2 tbsp oil
Procedure
Clean your red snapper thoroughly. Make 3 slits on both sides of the fish (from skin to bone) to help cook the fish faster.

Stuff the fish with cilantro, white parts of the green onion, and ginger. Lightly rub sesame oil on both sides of the fish. Lightly season both sides of the fish with salt and pepper.

In a large steamer, steam the fish on a heatproof plate for 12 minutes.

While waiting for the fish to cook, prepare your sauce. Combine all the ingredients listed for the sauce and set aside.

Prepare all the garnish: julienne the ginger, julienne the green onion, and clean your cilantro stems. To help the julienned green onions curl, you can soak them in iced water for 5 minutes, then remove.

In a separate small pot or pan, heat up 2-3 tbsp of oil until smoking.

When the fish is done cooking, carefully drain/pour out the liquid that came from the fish off the plate.

Layer on top of the fish the garnish (green part of green onion, ginger, cilantro).

Pour the smoking hot oil on top of the garnish to help cook the garnish.

Finish the dish by pouring the sauce. I would start with half portion and add more as needed (we prefer a lot of sauce).

Serve hot with a side of rice!!