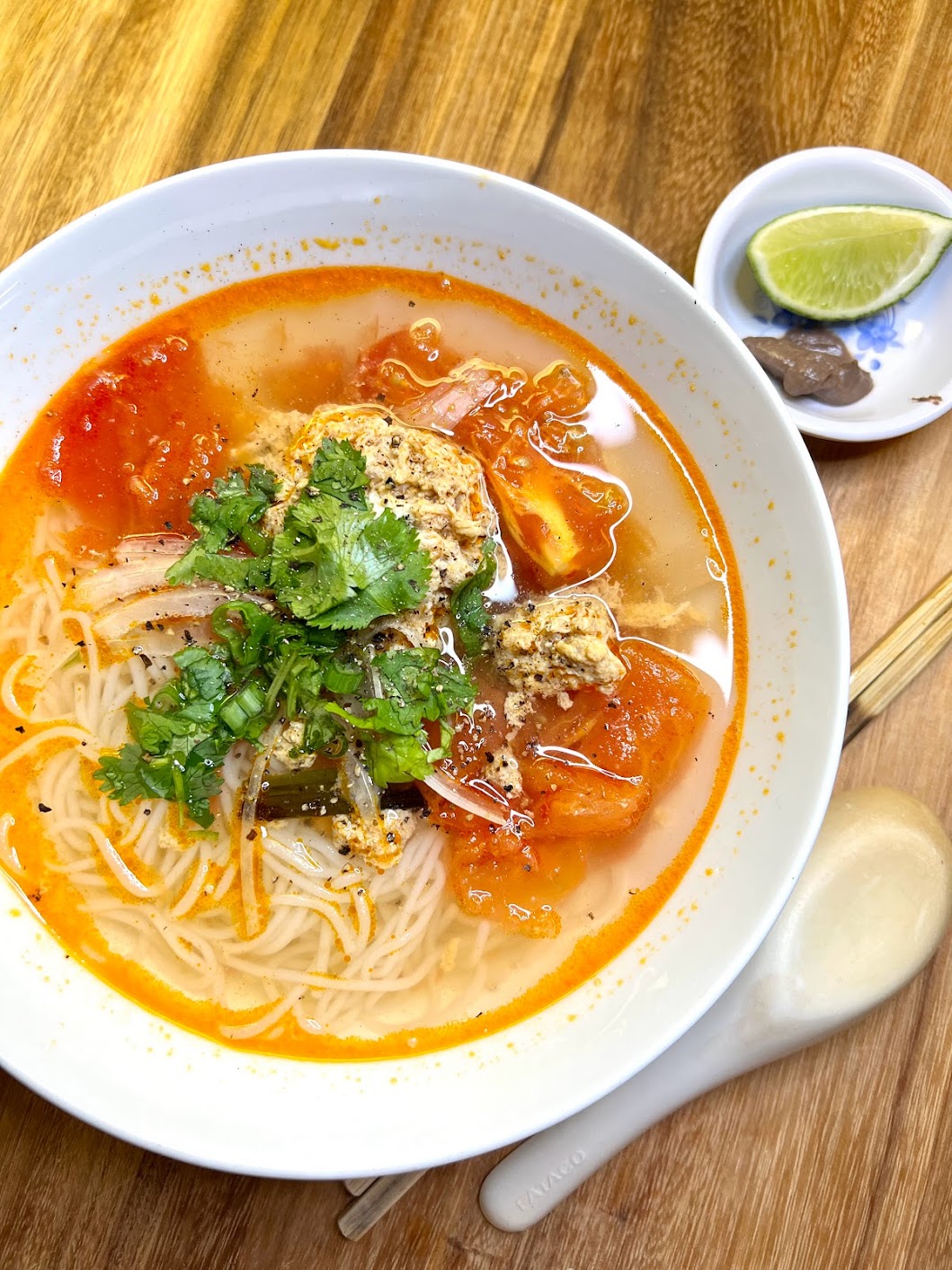 In Vietnam, my Mama (grandma) sold Bun Rieu to make ends meet for her family - and she took pride in the simplicity of her recipe. There's no tofu, no pork blood, or shrimp. She uses only real crab meat in her "Rieu" so that you can fully taste the crab flavor in the soup.
Serves 4 / Cook time: 50-60 mins
Ingredients:
For the broth:
1.5 lb spare ribs
3 roma tomatoes (quartered)
3 green onions (cut into 2" pieces)
2 shallots
1 medium rock sugar
1 tbsp salt
2 tbsp fish sauce
1/2 tbsp chicken powder
2 tbsp cooking oil
For the "Rieu":
1/4 lb ground pork
1/3 cup crab meat
1.5 tbsp crab paste in bean oil
1/4 tsp shrimp paste
1.5-2 eggs
1/4 tsp sugar
black pepper
To serve:
Rice vermicelli noodles (bun)
Green onions (to garnish)
White onion (sliced to garnish)
Cilantro (to garnish)
Black pepper
Instructions:
Par-boil your spare ribs and clean.

In a large pot, add the cleaned spare ribs, 2 shallots, 1 medium rock sugar, 1 tbsp salt, and 12 cups of water. Bring it to the stove over high heat until boil. Then simmer for 30 minutes.

While waiting for the broth to cook, prep your green onions and tomatoes. In a large pan, heat 2 tbsp cooking oil over medium-high heat. Add your green onions and cook for 30 seconds. Add your tomatoes and cook for an additional 2 minutes. Set aside.

After broth has been cooking for 30 minutes, add your cooked tomatoes and green onions. Allow this to simmer for 10 minutes.

While waiting for broth to continue cooking for 10 minutes, combine all ingredients under "for the Rieu" in a small bowl. Mix until fully combined.

After the 10 minutes of the broth simmering, slowly spoon in your "Rieu" mixture into the broth. After 5-7 minutes, the "Rieu" will float to the top once it is cooked.

Season the broth with 2 tbsp fish sauce and 1/2 tbsp chicken powder. Taste and adjust as needed.

Cook your noodles according to package instructions

Prep your bowls by adding the cooked noodles, broth, and garnish with white onion, green onion, cilantro, and black pepper.